JONASSON'S BOTH BOOKS ON TOP FIVE IN CZECH REPUBLIC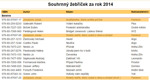 The Girl who Saved the King of Sweden was the most sold book in Czech Republic in 2014. The hardback of The 100-Year-Old Man Who Climbed Out the Window And Disappeared was the fifth most sold book in the country, and # 16 on the list is the paperback edition of the same book.

The Czech publishing house Panteon has released a successful bind up edition of the two novels.