The 100-Year-Old Man awarded with the Golden Book in The Netherlands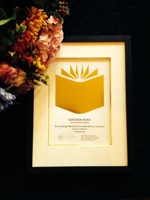 We are happy and proud to announce that Jonas Jonasson has recieved The Golden Book Award (Gouden Boek) for The 100-Year-Old Man Who Climbed Out the Window and Disappeared.
The Golden Book is awarded a book that has been sold in over 250.000 copies in The Netherlands.

The 100-Year-Old Man has sold almost 270.000 copies in the country and Jonasson's second book The Girl Who Saved the King of Sweden was released in dutch earlier this year with great success.